Latent Print and Bloodstain Pattern
Photography Simplified
with the "StapleTube"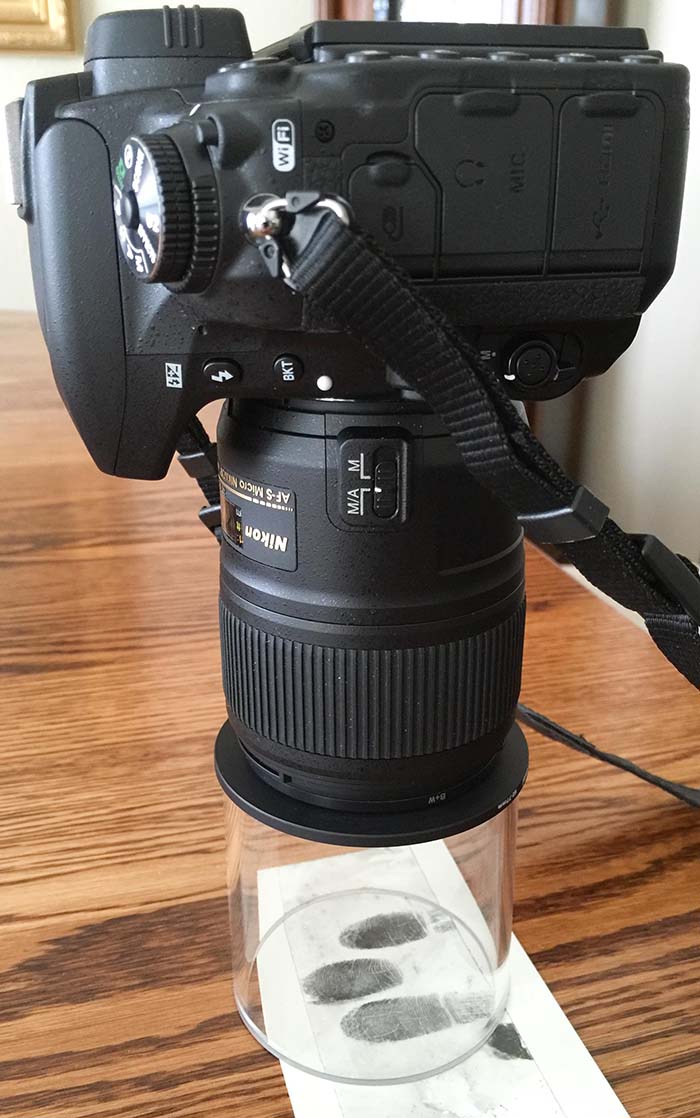 The plastic tube attached to the lens is called the "StapleTube"
Introducing the "StapleTube"™
The StapleTube is intended to be used by CSI personnel to simplify and expedite the photography of Latent Prints and Bloodstain Pattern Impressions. It aids such photographic documentation in the following ways…
It eliminates the need for a tripod.
Evidentiary images are rapidly and easily photographed.
It places the camera 90 degress on top of the impression.
The camera lens only needs to be focused once.
It allows the photography of impressions on vertical surfaces such as a wall.
It allows enough field-of-view to photograph multiple impressions with a scale in the same frame.
It allows for the use of lens filters with forensic light sources.
The StapleTube simply screws onto the filter threads at the front of the camera lens. Evidence may be illuminated through the clear "StapleTube" by either available light or holding a light source to the side at an oblique angle.
The StapleTube appears in "Crime Scene Photography", Third Edition, by Edward M. Robinson. The usefulness of this plastic tube for blood spatter documentation is described in Subchapter 9.3, "Bloodstain Pattern Analysis and Photography".
The StapleTube is currently being used by many federal, state, and local CSI Units throughout the U.S.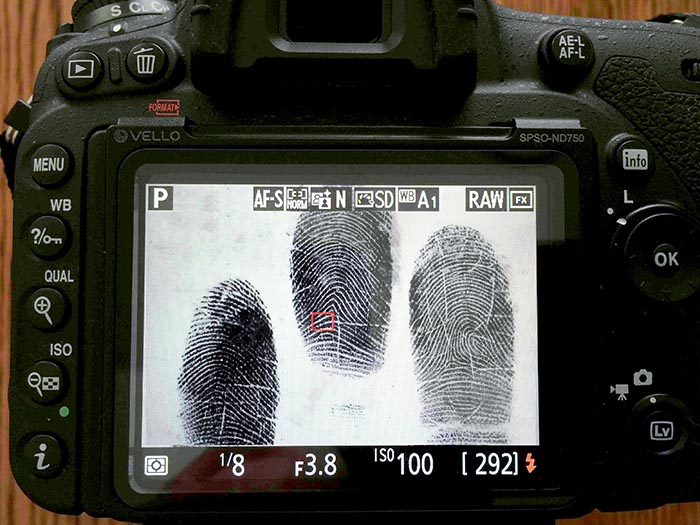 Live view image of latent prints to be photographed with the StapleTube.
Federal and local law enforcement professionals are amazed of the photographic results achieved and its simplicity of use. For more information or to order the "StapleTube" e-mail Mike Stapleton or call (925) 999-9162.
The StapleTubes are configured to work with Nikon and Canon digital SLR cameras equipped with the manufacturers' macro lenses. It also can be configured to work with other macro lenses as well.
Price: $114.95 plus shipping and handling.